Artist Statement
My paintings portray hypothetical futures that explore the relationship between nature and the city, simultaneously evoking optimism and concern. Drawing inspiration from my global travels, I merge imagery from multiple locations into a single scene, creating unexpected compositions. By integrating natural elements, such as trees, mountains, and bodies of water, with man-made structures, like skyscrapers, bridges, and highways, I invite viewers to contemplate the intricate ways in which the urban and natural worlds can coexist and interact.

My style is a fusion of contemporary drip painting and imaginative realism. I apply paint with squeeze bottles, manipulating the falling drips with water spritzers and by rotating the canvas. Natural forms emerge out of this organic paint application that mimics how gravity and rain erosion actually create environments. In contrast, my urban imagery is built with architectural precision. Dripping paint is used to create straight lines that are meticulously pre-planned using rulers and levels as tools.
Initially, I used highly saturated colours to express my optimism for a bright and colourful future. However, after having children, I became increasingly concerned about the world we're leaving them. Although my colours remain vibrant, their meaning has evolved to signal alarm and urgency. Some of my work evokes feelings of unease, while other pieces envision a beautiful world where nature and humanity are working together. By depicting both of these potential futures I want people to stop and think about the relationship between nature and cities and its impact on us all.
My artwork portrays the harsh reality of the current state of our planet, depicting the devastating effects of burnt forests, floods, and melting glaciers. Yet, amidst this despair, I also strive to offer a glimpse of hope by imagining a future where humanity and nature can coexist in harmony. I believe that this is possible through innovative solutions like green building design, natural landscaping and renewable energy. By exploring the tension between utopian and apocalyptic visions, I hope to inspire people to take action and do what they can to create a more sustainable world for ourselves and future generations.
Amy Shackleton (b. 1986) is a Canadian artist who earned her BFA from York University in 2008. Her artwork has captured the attention of millions online and has been featured in Magenta Magazine, Huffington Post, and LUXE Magazine. She has actively participated as a guest speaker at the Canadian Arts Summit and the University of Cincinnati. Shackleton's works can be found in public collections, including the Museum of Dufferin, Colart Collection, and Facebook Canada.
Throughout her career, Shackleton has received several grants from the Ontario Arts Council. She has also been recognized with First Choice/Prize Awards by esteemed public art jurors, such as the McMichael Canadian Art Collection (Kleinburg) and the Station Gallery (Whitby). With a strong commitment to the arts community, Shackleton has served as the President of the Board of Directors at the Visual Arts Centre of Clarington for the past two years.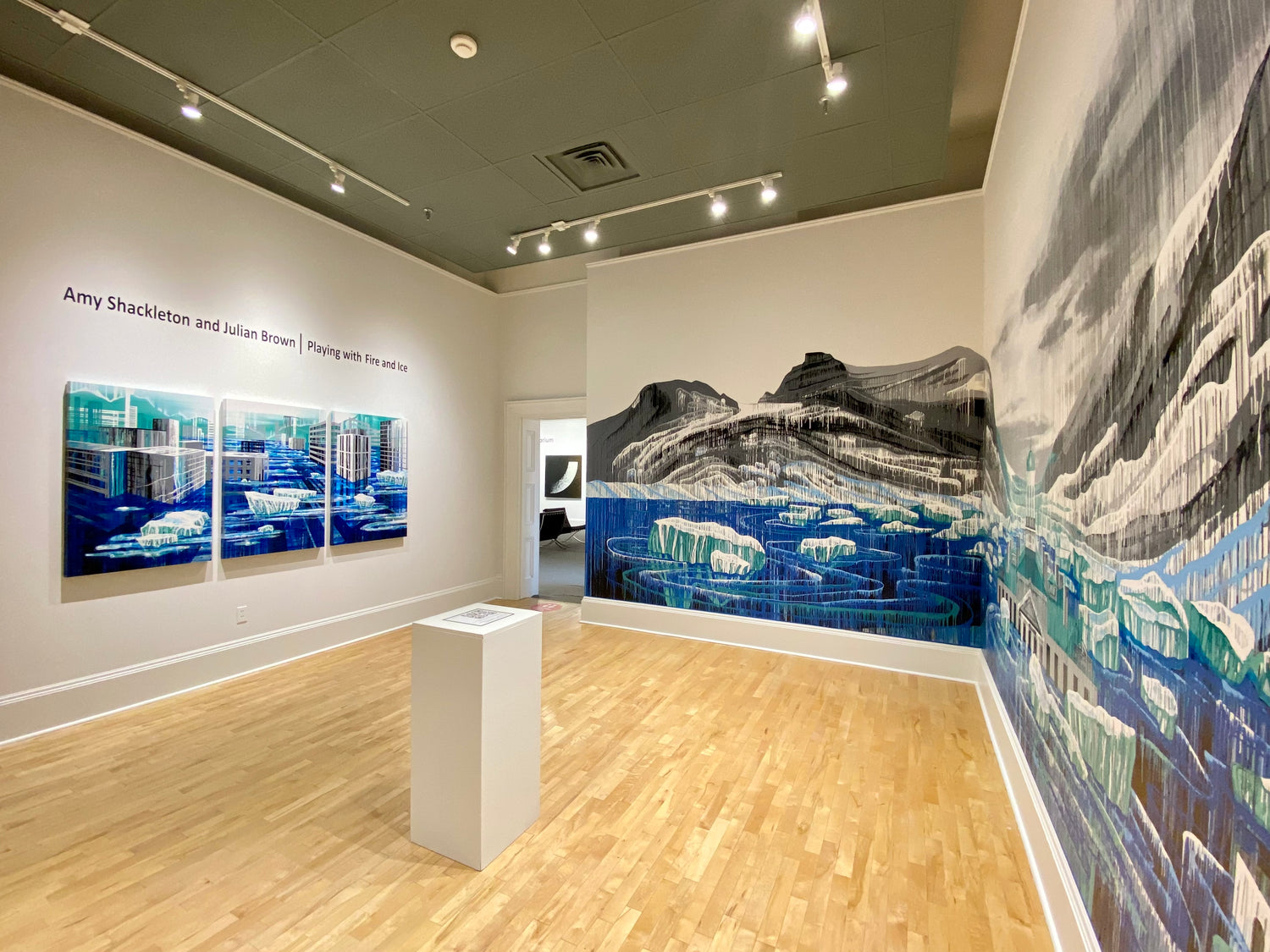 Shackleton's artwork has been extensively exhibited across North America and beyond. Her solo exhibitions have taken place at renowned venues including THEMUSEUM in Kitchener, ON, the Museum of Dufferin in Mulmur, ON, and the Art Gallery of Northumberland in Cobourg, ON. Notable group exhibitions she has participated in include "The Carmichael Canadian Landscape Exhibition: Tradition Transformed" at the Orillia Museum of Art & History and "Award Winners" at the McMichael Canadian Art Collection. Shackleton is based in Oshawa, Ontario, where she lives and works from her home studio.
Technique
Shackleton's innovative painting technique has captured the imagination of millions online. This video reveals how she applies and manipulates her paint using squeeze bottles and gravity.
Gallery Representation
Shackleton's commercial gallery representation dates back to 2009. Visit one of these reputable physical/online galleries to view work in person and/or make a purchase.
Wall Space Gallery

Ottawa, Canada
info@wallspacegallery.ca
613-729-0003

View website

Kefi Art Gallery

Toronto, Canada
hello@kefiartgallery.com
416-829-1939 

View website